Geriatric Nursing is written for nursing administrators, directors of nursing, clinicians, and educators. Its practical focus highlights the best in care management for elderly patients in nursing homes, hospitals, and at home and covers all areas of gerontological practice including skin and wound care, psychosocial issues, adaptive living, medications, Alzheimer's disease, dementia, mental health and mobility. Geriatric Nursing is indexed in Medline, ISI and CINAHL.
Editor in Chief:
Barbara Resnick, PhD, CRNP, FAAN, FAAN
Organizational Affiliations:
Official Journal of American Assisted Living Nurses Association, National Gerontological Nursing Association and Gerontological Advanced Practice Nurses Association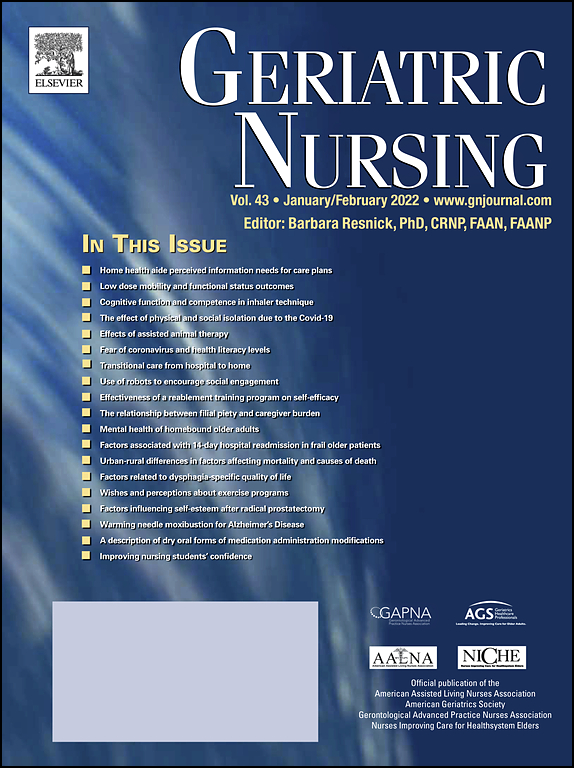 Global Print Circulation
2,198
Circulation updated on August 18th, 2022, based on 12-month monthly average July 2021-June 2022.
Rate Card
Find the best value for your advertising dollars
Download
Visit Journal Website
Find out more directly from the source
Visit
View All Journal Metrics
Detailed insights into the reach and penetration of this journal
Visit
Looking for more information?
If you would like to be contacted by one of our advertising experts, please complete our Request Contact form and we will get right back to you.