The American Journal of Clinical Nutrition
A highly rated peer-reviewed, primary research journal in nutrition and dietetics, The American Journal of Clinical Nutrition (AJCN) publishes the latest research on topics in nutrition, such as obesity, vitamins and minerals, nutrition and disease, and energy metabolism.  The purpose of AJCN is to publish original research studies relevant to human and clinical nutrition. Well-controlled clinical studies that describe scientific mechanisms, efficacy, and safety of dietary interventions in the context of disease prevention or a health benefit will be considered. Public health and epidemiologic studies relevant to human nutrition, and innovative investigations of nutritional questions that employ epigenetic, genomic, proteomic, and metabolomic approaches are encouraged. Solicited editorials,book reviews, solicited or unsolicited review articles, invited controversy position papers, and letters to the Editor that relate to prior AJCN articles are essential components of the AJCN. All submitted material with scientific content will undergo peer review by the Editors or their designees before acceptance for publication.
Editor in Chief:
Christopher P Duggan, MD, MPH; Boston, MA
Organizational Affiliations:
American Society for Nutrition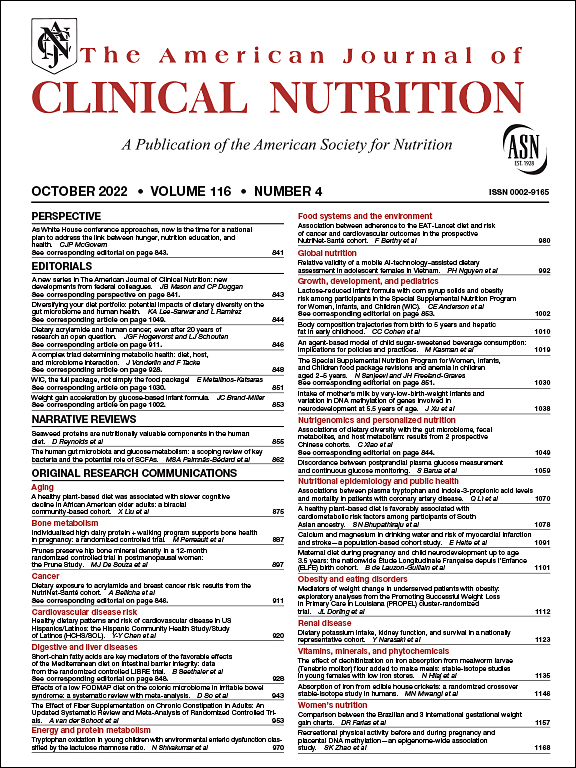 Global Print Circulation
Online Only
Avg. Global eTOC Distribution
7,000
eTOC Metrics: 6 Month Average of eTOC sends - Nov 2022 to April 2023
Rate Card
Find the best value for your advertising dollars
Download
Visit Journal Website
Find out more directly from the source
Visit
View All Journal Metrics
Detailed insights into the reach and penetration of this journal
Visit
Looking for more information?
If you would like to be contacted by one of our advertising experts, please complete our Request Contact form and we will get right back to you.