Seeking additional information on our Occupational Therapy portfolio?
Unable to find information on one of our specific titles?
Please visit our Contact Us page for general sales inquiries.
A listing of our Occupational Therapy journals can be found below. We also offer an extensive array of additional products and custom capabilities to complement and boost your target marketing needs.
Learn more here or contact us today!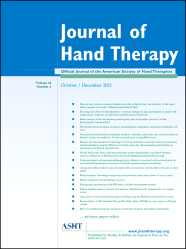 Average Monthly Visits
11,744
Specialty: Occupational Therapy, Orthopedics, Sports Medicine and Rehabilitation, Physical Therapy and Rehabilitation
Audience:
Certified hand therapists, occupational therapists, and physical therapists working in hand therapy centers, hand surgery practices, physical therapy centers, and hospitals.
Circulation updated on August 18th, 2022, based on 12-month monthly average July 2021-June 2022.